You are here
Our History
Linwood Mill is rich with history, with its origins in the early 1830's as Whitin Machine Works,  a great textile plant containing 1 and 3/4 of a million square feet.  This factory met regional and national demands for textile production and expanded its spindles and machinery into overseas markets. Many structures in the town, including area homes and businesses were created to support the Mill's working population.  The Mill continued to experience growth and in 1864, a large section was added to the factory which included the bell tower along North Main Street.  Above all other mills, the Whitin Machine Works grew from modest beginnings in 1831 to a formidable textile giant.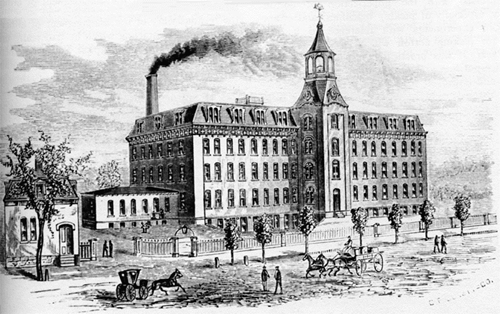 As a point of interest, in the 1860's and on, The National Labor Union was an influence on the Mill and an advocate of equal pay for equal work, abolition of child labor, and the establishment of an 8-hour workday. (At this particular time in history, most laborers toiled 10 or more hours daily.)
The Mill continued to thrive with business through the decades.  The mid to late 1940's saw a post -World War II boom and an increase in the production of goods and employment for the Mill.  However in the late 1940's the Mill began to face increased competition as the WWII business surge declined.
The Whitin family decided to  seek 'non-textile' work to diversify and  to stabilize its work force. The experience it had in WWII enabled Whitin to handle a great variety of work and to diversify its products. Whitin had a reputation for extremely close tolerances in many metals during their manufacturing of textile machinery (unheard of in the textile industry). So, Whitin secured contracts to produce many items ranging from complete machines to heavy castings. Whitin had been casting, forging, and machining parts for a lot of companies, and it worked on many products too.
There were many 'turnovers' for the Mill during the 1960's, 1970's and 1980's. In the 1980's many departments and work projects went to the South. This was the end of the Whitin Textile Machinery production.
Linwood today is now known as the "Linwood Historic District" within the towns of Uxbridge and Northbridge.  The Linwood Cotton Mills are also listed on the National Historic Register. The Linwood Historic District includes late Victorian structures, the Linwood Cotton Mills, and extends down Linwood Avenue to Pine and Maple. The Blackstone Valley, and Linwood, are now part of the Blackstone River Valley National Heritage Corridor, the oldest industrialized region in the United States.   The parcel is located on Linwood Avenue which is one of the gateways into the Town of Northbridge, Massachusetts.
Besides Linwood Mill Commercial Property, this historic site is now home to Linwood Mill Apartments, active adult senior rental residences managed by Peabody Properties.  Learn more about the apartments.
(History and photo provided with permission by Don Gosselin.)